It looks like it's going to be a fun 2020 for E-Commerce brands. Google just introduced a new feature that will change how people search and find clothes forever.
"Starting today and rolling out this week, you'll begin to see clothes, shoes and accessories from across the web in one place on Search on your mobile device, so you can easily browse lots of different stores and brands at once," wrote Denise Ho in a blog post.
In the past, we all looked for clothes by searching for things like "jordan 11 basketball shoes" or "womens seaters" and expecting to go through a bunch of blue links searching for items we actually want. There was pretty much no structure or overview to apparel search. Well, that's changing, Google is integrating more of a shopping experience into the search results, now getting people to what they want, faster.
The new Google Shopping options will improve the process of tracking prices, finding style inspiration and shopping in local stores.
Ultimately, Google has always been about the user experience and trying to get users to match their search intent as fast as possible, and this does just that.
Try a search for something you're looking for and take a look at the new experience in Google Search. Google will identify popular products from stores across the web and bring them all together. The new overview will provide filters that will help users categorize the results by size type, style or department. If you want to learn more about the product you just simply click on it and you will be redirected to the source.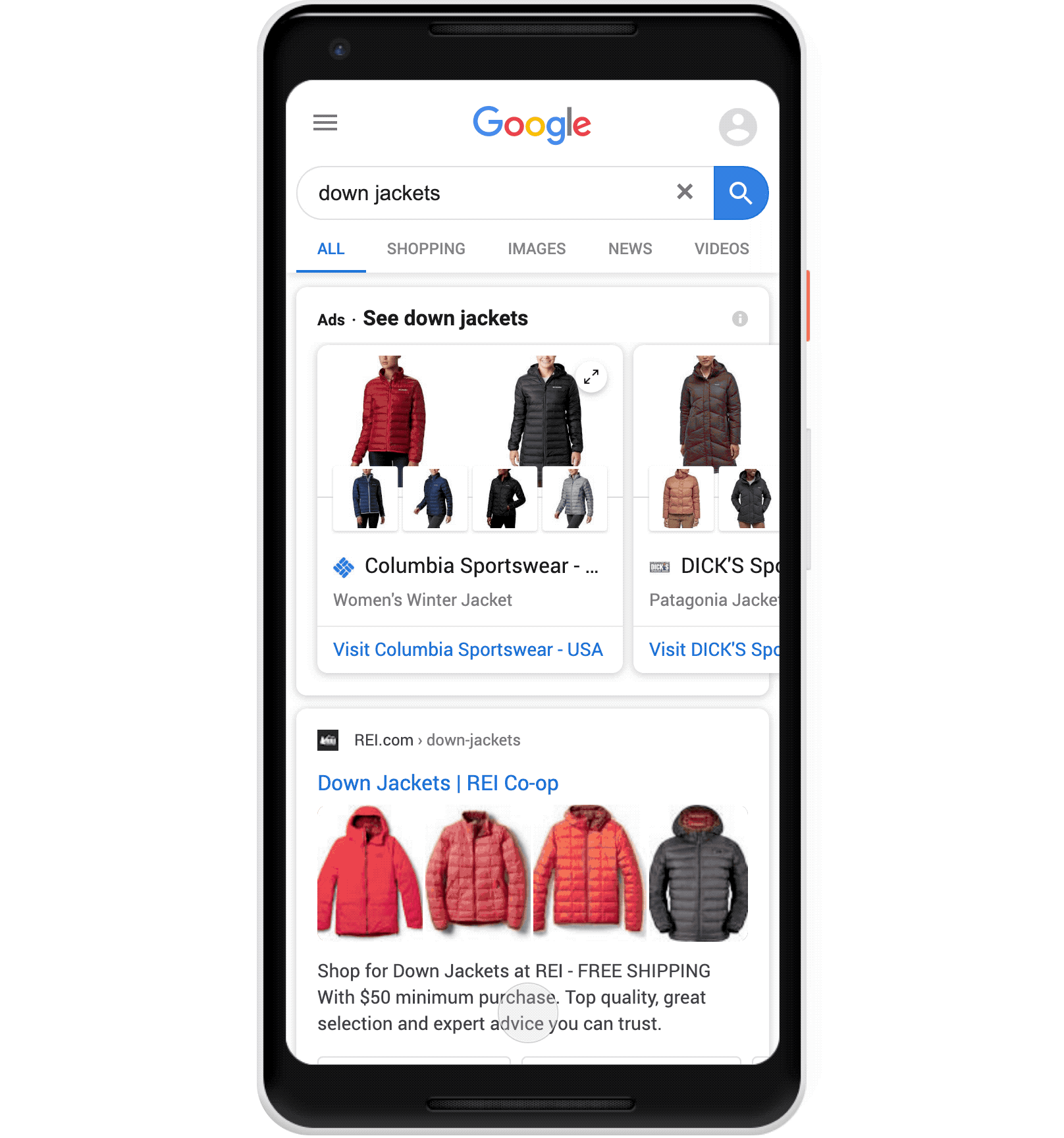 Google will operate this by using indexing and organizing products from stores and shops that exist on the internet. The updates will be frequent therefor users will be able to see new products and suggestions constantly.
If you're familiar with Pinterest, this will be very familiar to you with their "Shop the Look" process. Pinterest provides a listing of items for users beneath any given Pin. However, the difference is that Google is building new functionality on text queries and not using visuals as Pinterest does.
In the past, Google had similar services related to the search of song lyrics. There is no need to click through a site to review the song lyrics, all of them will comply in the answer box. The same thing happens when you are searching for a recipe.
As you can tell, Google is, more and more, integrating the content from within content, music, and now e-commerce brands within their search results, reducing the number of clicks to get to the content you want.
This is a bit of a double edge sword for marketers, on one hand, you're getting shown off right away in search results. That said, on the other hand, you find yourself losing lots of clicks, especially if you rely on those clicks for traffic and revenue. The benefit for e-commerce marketers, possibly more purchases, instantly, within search.
The new clothing search format is provided by Google free of charge for eCommerce brands. Google has provided a list of requirements that explains which products are eligible to appear in the new shopping experience on Search. This is all new for SEOs out there, but take all of this into consideration and review the requirements thoroughly.
Hopefully, in the next couple of weeks, we will get more clarification about the working mechanisms of this new functionality and will be able to optimize and drive customers to what they truly want.
Are you a brand looking for help on integrating this into your site and making sure you meet the requirements from Google. Check out our SEO Consulting Services and get in touch for us to help you, like we have many e-commerce brands in the past.